Today, 15 January 2020, Labour Xchange, a platform which matches blue collar workers and individuals with free time to companies in need of extra resourcing, announces that it has partnered with Trezeo and Dinghy to bring its users an extra level of benefits and security.
Labour Xchange, based in Southend in the UK, was founded on the principal that self-employment can be both more flexible and less precarious. The vast majority of self-employed people are happy to be self-employed because it gives them flexibility to manage their schedules and, in the case of Labour Xchange users, to fit work around other commitments. The challenge is that self-employment generally comes without financial security or protection, which is the reason why Labour Xchange has teamed up with Trezeo and Dinghy.
Working together with Trezeo and Dinghy, Labour Xchange is giving its users access to a range of benefits and, in effect, creating a new safety net for the self-employed.
Trezeo, a member of the Nationwide Open Banking for Good programme, helps independent and self-employed workers to manage their variable incomes, allowing them to save money in the good months and topping up their incomes when needed. In addition, Trezeo gives self-employed workers access to a growing bundle of benefits, such as accident insurance.
Dinghy, which alongside Trezeo and Labour Xchange took part in the RSA's Economic Security Impact Accelerator in partnership with Mastercard, offers the first ever on-demand business insurance cover aimed at freelancers and self-employed workers. Dinghy allows customers to flex their insurance coverage up, down, on or off with a simple swipe in app or online to reflect their needs – enabling them to save money but remain fully covered when they are between projects or on holiday.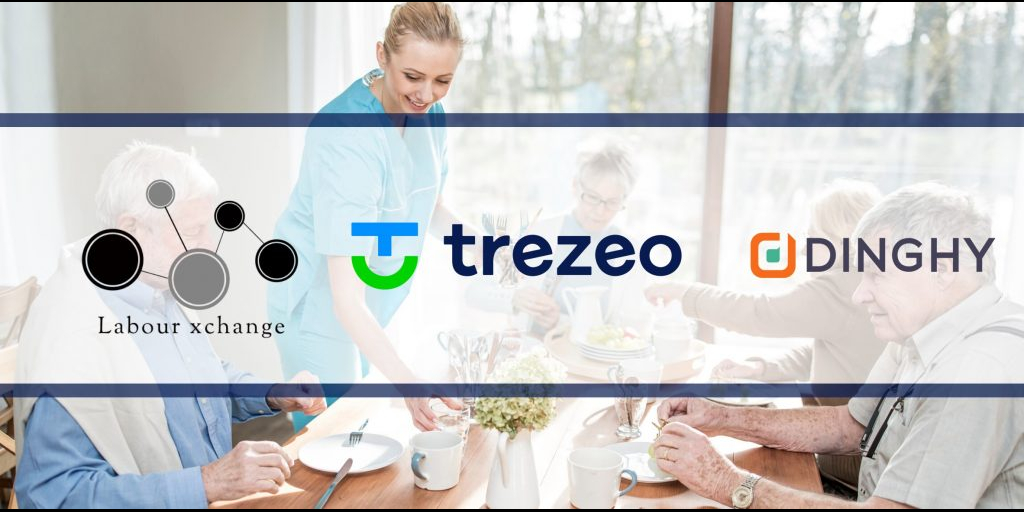 Jonathan Key, co-founder and CEO of Labour Xchange, commented: "There is a massive shortage of labour in the UK – 150,000 unfilled care positions, for example – which we can only solve by tapping into underutilised workers. But their personal and financial circumstances are extremely tight, which is why we've got to let them work on their terms and ensure that we protect them against adversity. This is why we're working with Trezeo and Dinghy to create a win-win situation that works for all."
Garrett Cassidy, CEO of Trezeo, added, "The world of work is changing quickly as the result of a structural shift towards self-employment and gig-based work, and yet protection and benefits remain tied to full-time employment. This is what we're changing, putting together the bundle of benefits that will create a new safety net for the digital age. Working with Labour Xchange is a really exciting milestone for us, giving a route to thousands of self-employed workers who can immediately access the Trezeo service."
Robert Hartley, co-founder of Dinghy, said: "We have reinvented insurance for the needs of freelance and gig economy workers – no up-front premium, pay only for the cover you use throughout the month, and get billed by the second. There's no interest, no credit checks and no fees – and we're delighted that we can offer the service to Labour Xchange users."
About Labour Xchange
We make work, work for everyone. By matching the spare time of individuals with the demands of businesses we create a true win- win scenario. Individuals get the opportunity to work when its convenient to them and businesses get a simple and effective staffing solution that is as easy as "click-click-staff".
For more details, visit www.labourxchange.uk
About Trezeo
We are building the financial safety net for the growing number of self-employed. And in a way that works best: simple, affordable and on-the-go. Our service turns unpredictable income into regular payments, enables automated savings for expenses like tax and provides access to affordable credit along with offering protection for members when they can't work due to accident or illness. Trezeo is backed by leading investors including Barclays and Techstars.
For more details, visit www.trezeo.com
About Dinghy
Dinghy launched the world's first truly on-demand freelancer insurance. With the option of pausing insurance to save money. The revolutionary nature of our platform allows freelancers to match their insurance to their on-demand work life, reduce their costs, and alleviate cash flow concerns. Policies can be bought in just three minutes, and all claims and policies can be handled online 24/7 through the Dinghy mobile app and website.
Dinghy offers professional indemnity insurance, public liability insurance, business equipment insurance and customised legal expenses insurance to cover the needs of freelance professionals.