Dinghy puts you at the helm of your insurance with new self-service dashboard
Here at Dinghy, we want to make things as easy as possible for our customers. With so much uncertainty in the world (the big C, and all the implications that come with a pandemic, being the primary worry for most people right now), handing you control over your own insurance is just one small way we can help.
Our biggest goal has always been to change the way business insurance for the self-employed is handled for the better. We knew freelancers needed flexibility and agility when setting up Dinghy, which is why we decided to give our customers the power to pause and save money on their cover while not working from the outset.
However, after listening to your feedback and taking the time to analyse our customer journey (never ones to rest on our laurels!) we decided to make it even simpler for you to take the wheel.
Introducing: the brand-new Dinghy self-service dashboard.
What's changed on the Dinghy site?
The improvements we've made to the user area may look small but have a big impact on how quickly and easily you can make changes to your insurance cover.
This is what you used to see: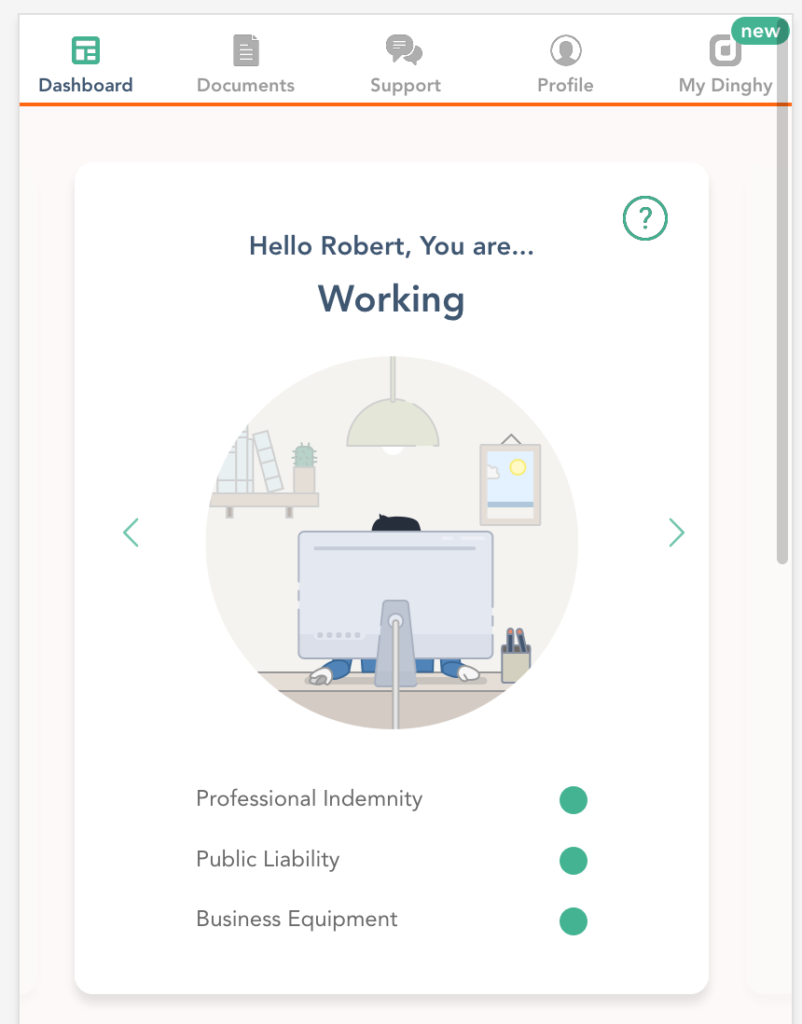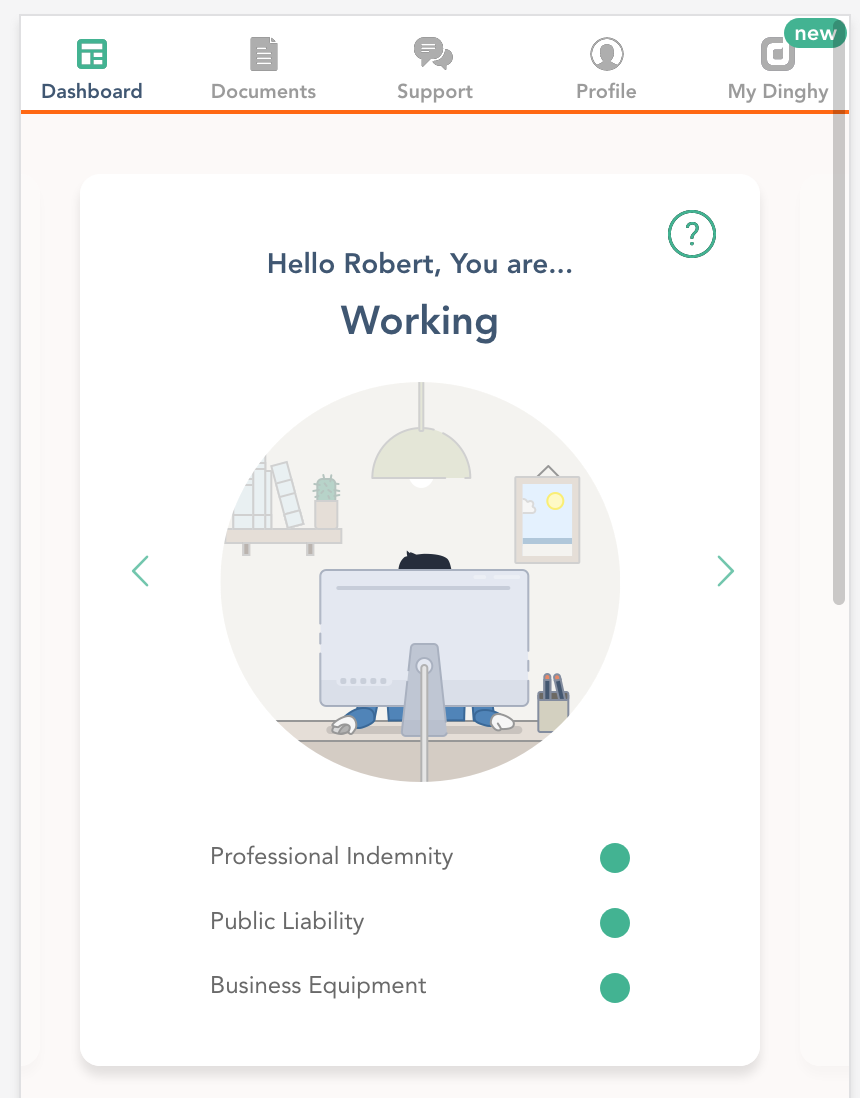 And this is the new dashboard view: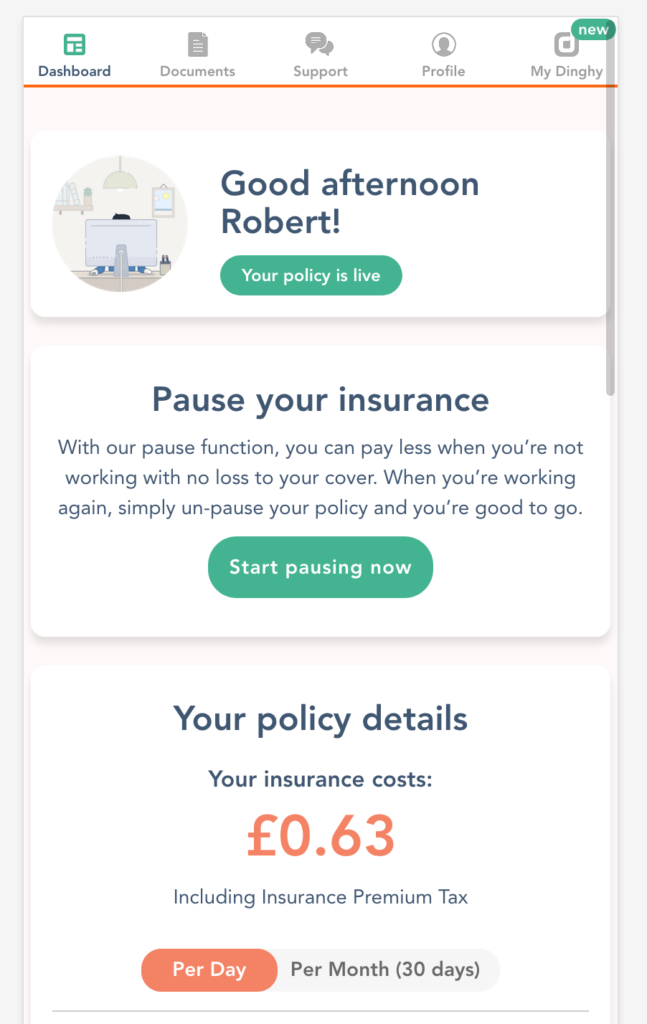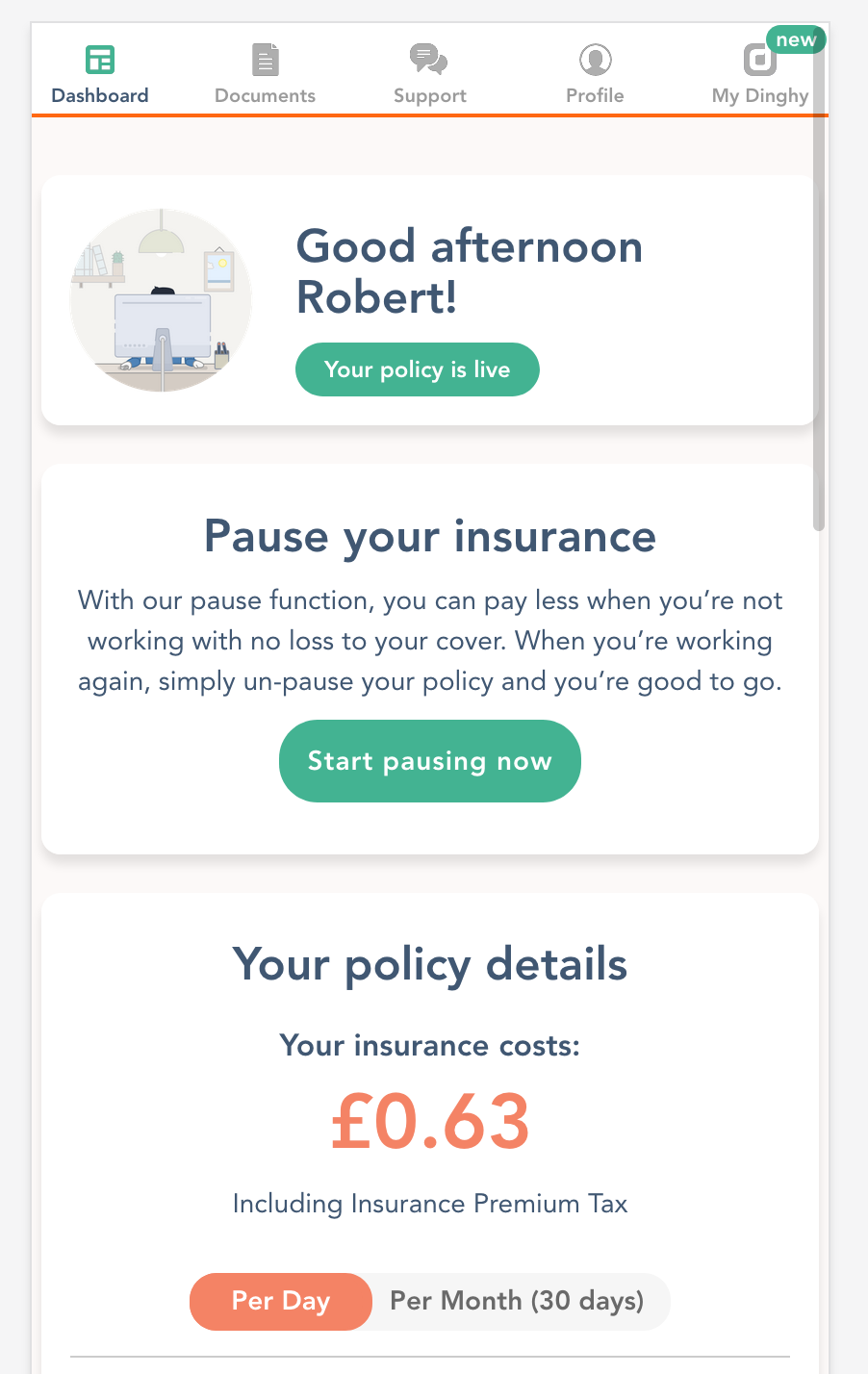 Much better, if we do say so ourselves.
Alongside a cleaner look and more intuitive layout, we've added in a summary screen that clearly displays your new premium price after amending a policy. We even let you know how much you're saving per day in both pounds and as a percentage – not just handy when budgeting, but incredibly satisfying too.
Once you've accepted any changes made, your documents will regenerate in real-time. Any paused policies will be highlighted within your dashboard with a reminder of what you are and aren't covered for while they're inactive.
On the flip side, reactivating your insurance is doable within just a few clicks; this is especially important if you're unpausing a policy because you've picked up some work and time is of the essence. We do ask you to agree to the policy statements again at this point, but we have a good reason: if your profession or client has changed at all since you paused your policy, we may need to adjust your level of cover to suit. After all, it's our job to make sure that you're fully protected from any potential risks.
How do I amend my policies in the new self service dashboard?
No one has the time (or, more accurately, the inclination) to read instruction manuals so we've put together a quick video to guide you through the new process. It takes under 2 minutes to watch and should answer any questions you may have about the dashboard.
And just like that, we've made saving money on your policy quicker, easier, and clearer. If you want to see for yourself, simply log in to your account and the new dashboard will be good to go.
Insurance the way it should be – fast, flexible and easy to control.