10 of the best outdoor working spaces in London for freelancers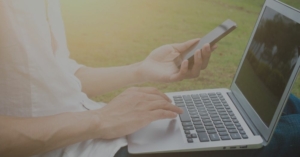 The days are longer, the sun is shining (sometimes) and we know that when the great British summertime arrives, you have to be ready to grab it with both hands. Working al fresco is the perfect way to soak up some Vitamin D while still making sure you plough through that freelance to-do list. Whether you need a spot for some quiet time, a lunch break away from your desk or a meeting with a client, we've rounded up a list of our favourite hot spots for working outside in our fair capital city.
1. Hampstead Heath
A wild world of heathers, meadows and woodland – it's sometimes hard to believe you're still in Zone 2 when you're wandering around the landscape that reportedly inspired The Chronicles of Narnia. There's plenty of space to spread yourself out – it's almost as vast as New York's Central Park. If you're seeking a spot for quiet working, we love the secret gardens of the Pergola, where there are benches to sit and drink in the amazing views and leafy greenery. Hampstead Heath is a great choice for a lunchtime or working afternoon, particularly when teamed with an energising dip in one of the three natural bathing pools or the (unheated) outdoor lido. Warm up with a coffee and hot snack from the Parliament Hill Café.
2. Clapham Common
If you're based in the South, you'll probably already be well-acquainted with the giant triangle of green that graces the boroughs of Lambeth and Wandsworth. If it's open space you're after, there's tonnes of it here, and it's a great spot for walking meetings. There are lots of shops and cafes nearby, so you can grab a picnic lunch on your way in. The iconic bandstand is the obvious spot to head for, but if you're looking to get away from the crowds then venture further into one of the woods or contemplate your next freelance project while looking over the waters of one of the two fishing lakes.
3. Greenwich Park
If you want to work against the backdrop of some of the most stunning views in the capital, hop along to Greenwich Park, make a beeline for the Royal Observatory and park yourself on a bench in the plaza. If you get bored of the views of the Thames, Canary Wharf and the Millennium Dome, there's plenty of fun to be had people-watching, or you can escape to the serenity of one of the showpiece gardens. The Rose Garden, with its showy blooms in summer, gets all the good press, but we love the full-on sensory experience of the Herb Garden. It's usually quieter too – perfect for when you need to crack on with some project work.
4. Battersea Park
Battersea Park might be most famous for its zoo and playgrounds, but there's a lot for grown-ups to experience here too. We love the nature reserve areas, where you can type along to a soundtrack of birdsong. In the centre of the park is the Pump House Gallery, the perfect place to head if you're meeting with a client or experiencing a bit of creative-block. Finish your workday on a mindful note with a walk up to the London Peace Pagoda, where you can meditate away the stresses of the day.
5. Richmond Park
Craving wide open spaces? London's largest Royal Park – Richmond Park, is where you need to go. Home to a herd of 650 deer, its wild grasslands will transport you far from the hustle and bustle of city life. Take a picnic blanket and enjoy a day spent exploring the true meaning of remote working! If you can get down there this week, treat yourself to a lunchtime walk through the stunning Isabella Plantation, where in early May a jaw-dropping carpet of pink and purple azaleas line the paths. Influencers take note – it's one of London's most Instagrammable backdrops.
6. Green Park
If you're stuck in Central London and need a quick spot for some fresh air, the leafy, squirrel-filled triangle of Green Park is our top option. From March to October, you can hire a deckchair (prices start from £3 for an hour), so you can work away while engaging in a bit of outdoor indolence. Green Park can be busy in the tourist season – as its location is right next to Buckingham Palace, it's not the most secluded space on this list – but it's a great central meeting place with plenty of shade on hot, sunny days (assuming we get any!).
7. Hyde Park
An oasis in the middle of Zone 1, there's a reason why Hyde Park is London's most famous green space. A trip to Speaker's Corner is a must – spend a few minutes listening to the debates here to help get your creativity flowing first thing in the morning. There are plenty of quiet corners to hunker down in to read, write, sketch, research or plan, and if you want to break up the day you could cool off with a dip in The Serpentine (or a paddle in the Diana Memorial Fountain, for the less adventurous!).
8. St. James's Park
Another centrally located park, St. James's is probably most notable for its pelicans, which have lived there for over 350 years. If you pitch up on one of the benches by the lake, you may even find one joins you to help you send a few emails (or steal your lunch). There's a handy cafe in the park if you need a caffeine hit and the gorgeous flowerbeds of Buckingham Palace form a pretty impressive backdrop indeed for a day of self-employed admin tasks!
9. Regent's Park
Kick your day off with a hike up Primrose Hill to get the endorphins pumping, then plop yourself on a bench to work with one of the most stunning views in the capital. As well as its zoo, Regent's Park is famous for its sports facilities, making it a great place to meet up with clients for a game of tennis or get together a gang of fellow freelancers for a spot of 5-a-side. It's usually a little quieter than Hyde Park or St. James's Park as well, making it a good choice for days when you want to work outside but don't want the distractions of crowds.
10. Waterlow Park
Described as "a garden for the gardenless", this leafy green space in Highgate is a total hidden gem. Less touristy than some of London's bigger and more famous parks, you can choose your own quiet spot for working: do you fancy watching the green-fingered at work in the Kitchen Garden, enjoying a canopy of blossom in the orchard, or overlooking one of the park's three natural spring-fed ponds? There are also dedicated BBQ areas if you fancy meeting up with freelancer friends for after work fun.
What's your favourite spot of green space in the Big Smoke? We'd love to hear your recommendations for more outdoor working spots that freelancers can enjoy this summer in London!
If it's raining, as it is often prone to do across a UK summer, never fear! We have a blog for that as well. You could take your work to one of these top co-working spaces in the capital. Check it out – it's always good to have a Plan B.
Which is kind of what Dinghy insurance is. A back-up plan or a support device if things go wrong when you're running your freelance business. Dingy offers professional indemnity, public liability, business equipment and cyber liability cover, all tailored to the needs of freelancers. It's super easy to set up – just pop the details of your freelance biz into our website, and we'll take you through the rest. All our policies are paid monthly and can be dialled down when you're not working, so you can save those precious pennies for a few ice creams in the park, maybe? Find out all the information you need about our freelance business insurance policies on our website.