How to supplement your income using your Dinghy referral page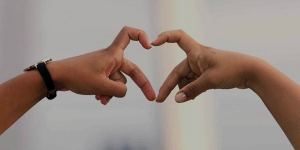 The electricity bill is through the roof, it feels like you need to sell a kidney to fill up the car and don't even get us started on the price of pasta. The cost-of-living crisis is really starting to bite and freelancers can be particularly vulnerable to inflated prices. Your income can fluctuate from month to month as clients may start to tighten their purse strings, causing you to win less work.
With all of this happening, it might be good to hear that if you have Dinghy insurance, you can supplement your income using our Refer A Friend scheme. For each freelancer friend who signs up to Dinghy insurance using your unique referral link, you and your friend will each receive a £25 voucher.
Whether you use this to help you when times are tight, to save up for occasions like birthdays or Christmas, or perhaps to chance to treat yourself, guilt-free, it's a big perk of Dinghy's policies that many of our customers are missing out on. In this guide, we'll show you how to set up and share your Refer A Friend link so that you can start earning those rewards!
How does the Dinghy Refer A Friend scheme work?
You will be given your own personalised referral link to share and get friends signed up.
You refer a friend to Dinghy and you both get a £25 VEX voucher when they sign up for a policy with us.
You can refer as many friends as you want and you'll get the reward after they pay their third monthly bill.
Where can I spend my voucher?
VEX vouchers can be used at over 150 brands and retailers, including supermarkets, high street names, days out and attractions, hotels and holidays, eating out and gig tickets. For full details of participating brands, visit the VEX website.
How do I set up Refer A Friend in the Dinghy app?
The simplest way to set up your Refer a Friend is to use the Dinghy app – available for both iPhone and Android. It's also handy to have as this is where you can access your dashboard to change your details, pause your cover or see how much your next bill will be.
Step 1 – enable your Referral page
By default this setting is turned off so the first step is to go into the app and turn it on. You do this by selecting the "More" tab at the top of the page, then sliding the switch next to My Dinghy to "on". Now your My Dinghy landing page is live! As well as being a hub to send your referrals too, this page is also really useful for proving to clients and prospective customers that you are fully insured – a safe pair of hands.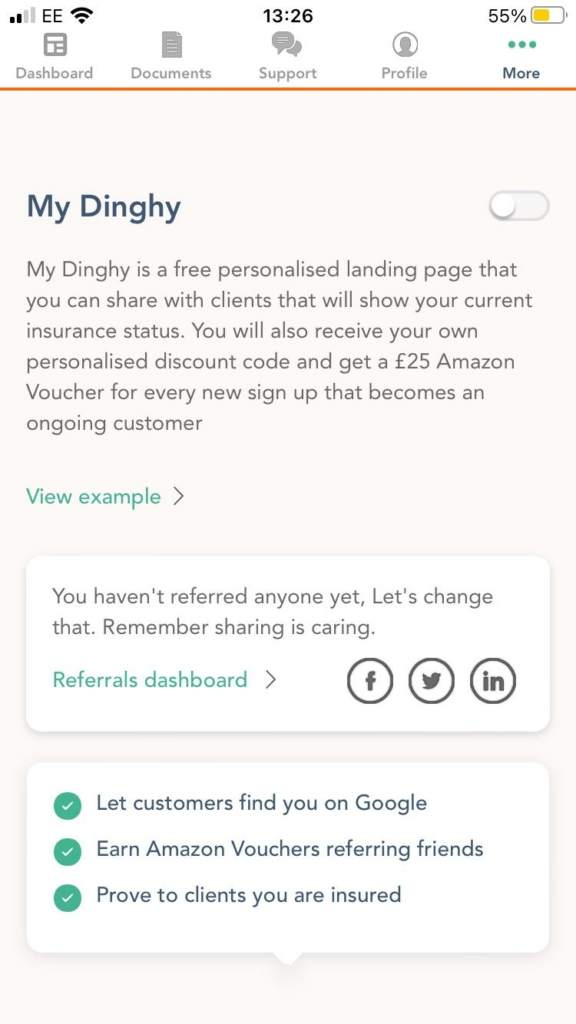 Step 2 – head to your Referrals Dashboard
Once you've activated My Dinghy, you'll now see a link to your own personalised page, which can be shared with colleagues and friends. Underneath, there will be a link to your Referrals Dashboard. Clicking this will take you to a page that shows all your active referrals. You'll be able to see the value of any rewards you earn and keep track of any friends who have recently joined us under your "Crew Members Recruited" heading!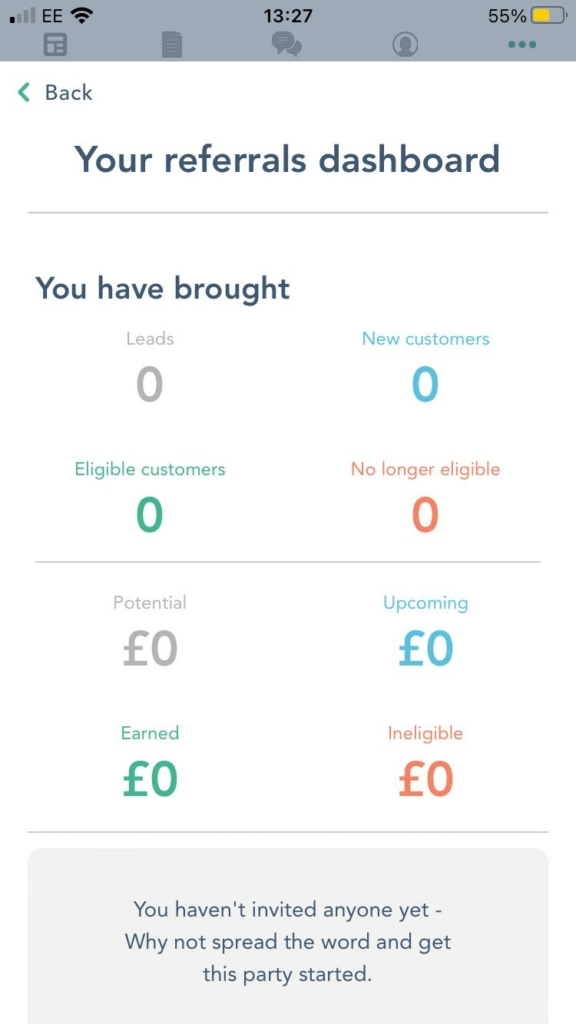 Any referrals you have made will be organised under four categories:
Leads: Interesting…People who have got a quote for freelancer insurance via your page, but not yet gone through with the purchase.
New customers: Hooray! These are people who have taken out Dinghy insurance using your link. They've not yet met the third bill threshold for releasing your vouchers, but hopefully they will soon and you'll both be rewarded.
Eligible customers: Whoop whoop, this means it's voucher time! These are people who have met the conditions for the offer – getting signed up and paying their first three bills. This should now show in the total owed to you.
No longer eligible: Aw shucks. These are people who did take out a policy but have cancelled it before they reached their third bill payment.
Step 3 – Share your link!
Your personalised referral URL will now appear on your dashboard. Just click "copy this link" and you can share it far and wide. You can also share to Facebook, Twitter and LinkedIn directly through your referrals dashboard.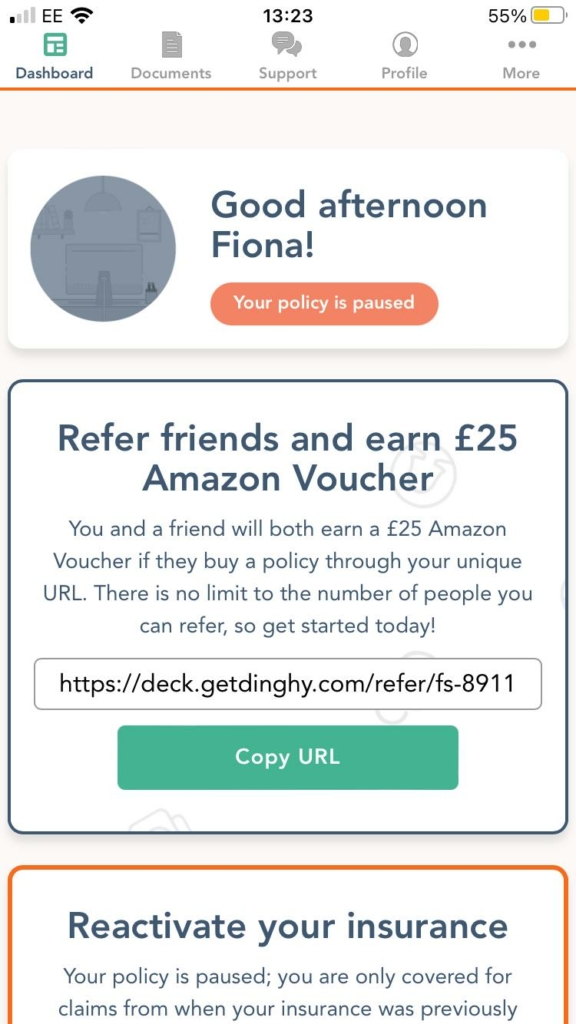 Finding friends
Now that you're all set up, it's time to share that link far and wide! There are lots of ways to get your freelancing friends signed up to Dinghy, and it doesn't always have to be the hard sell. If you know your friends or family are working without insurance, or are looking to switch, you can send them your link.
Here are some creative ways of getting more referrals through your link:
Include it, and the Dinghy badge, in your email signature.
Post it on your social media feeds – especially in places you connect with other freelancers, like LinkedIn.
Add the link and Dinghy badge to your own business website. This has the added bonus of showing potential clients that you're insured.
If you use a co-working space, advertise your link in the newsletter and on noticeboards in the space. It's easy to make your own QR code that links to your referral page for displaying on posters or leaflets that you can leave about in the space.
Share it in any online groups and forums you're part of (check the rules of the website first to see if this is allowed).
If you would like to get insured and boost your income at the same time, come on board with Dinghy. We offer flexible professional indemnity, public liability, business equipment and cyber liability cover, designed specifically with the needs of modern freelancers in mind. You can dial down your policies when you're not working, and all our freelancers get access to Freelancer Assist, which will help you chase down unpaid invoices. Find out more and get a quick quote on our website.