8 tips for freelancers in the cost of living crisis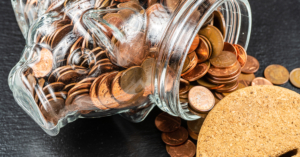 The cost of living crisis is starting to bite. On top of high fuel bills, prices are increasing for food and other essentials. The recent market turmoil means that lots of people are facing increased housing costs too.
It's a difficult time to be a freelancer. Your income isn't guaranteed, so you feel vulnerable. If households start to tighten their spending, this may have a knock-on effect for businesses, and freelancers could start to see work dry up.
But sitting around worrying about worst case scenarios isn't going to do anyone any good. Take action now with our freelancer money saving guide. Shore up your finances, cut unnecessary spending and prepare for the future to help you ride out this crisis. Here are our 8 top tips for freelancers to help them get through the cost of living crisis.
1. Save now if you can afford to
For some freelancers, we know saving is impossible. However, if you do have extra cash coming in or have just finished a large project, it's a good time to start squirrelling some away for a rainy day. If there are areas where you know you could cut back on spending, do it now and save the money. Don't wait for things to get desperate before you start being more careful with your cash. Saving gives you a buffer for times when work is harder to come by or if any of your outgoings increase.
2. Energy saving tips
"Have you put your heating on yet?" is the new conversation opener at the school gates or down the pub. Everyone in the UK is being more cautious with their energy consumption this year. Spend some time thinking carefully about how you can cut your bills down, and agree an action plan with the other members of your household. You might include steps like:
Turn off lights and appliances when you're not using them.
Turn the thermostat down. The Energy Saving Trust recommends a temperature of 18-21 degrees. You can try reducing the temperature by a degree each day to see what's a comfortable temperature for your house. Estimates suggest that even a 1 degree reduction could save you 10% off your energy bills.
If you're working from home, use thermostatic radiator valves to just heat the room that you're working in, rather than the whole house.
For extra tips on saving energy (and money!) have a look at our blog on how to be a greener freelancer.
3. Seek help and support
If you're struggling financially, you don't have to suffer alone. Many freelancers think they won't be entitled to any benefits or financial help, but – depending on your circumstances – there might be support you can claim. People who are in their first year of self-employment or who are "gainfully self-employed" but earning below the threshold might be able to claim Universal Credit and other benefits like the one-off cost of living payments. Eligibility depends on your work status, earnings, savings, and if you have a partner living with you as well. It's worth spending a few minutes running your finances through a benefits calculator like the one on the Turn2Us website to see if there's any financial support for freelancers that you can claim.
Even if you're not eligible for government help, there are still lots of charities and organisations working to support all kinds of people. As well as food banks, there have been other initiatives like clothes banks and baby banks springing up in communities. To visit a food bank, you usually need a referral from an agency like Citizen's Advice, a children's centre, your GP or local council.
4. Eat well on a budget
It's pretty soul-crushing emerging from the supermarket at the moment and realising that your weekly shop is costing more than ever – even though you're trying to cut back on the luxuries. Market research company Kantar have estimated that the average annual grocery bill for a family will increase by £454 this year.
Tips for cutting the cost of your food shop include:
Switch down your brands – many supermarkets are improving and expanding their budget ranges as their customers are tightening their purse strings.
Plan meals ahead and stick to the list.
Buying in bulk is cheaper, so you could batch cook meals and freeze them for later in the month.
Don't shop when you're hungry – that increases the risk of extra snacks working their way into the basket.
If you know you're an impulse buyer, consider doing your shop online to keep yourself away from temptation.
Meat is expensive, so consider eating veggie a few days a week.
Running the hob is cheaper than running an oven. Get creative with meals you can cook in a pan!
5. Make the most of Dinghy's flexibility
Dinghy has a great money-saving feature for freelancers, where you can dial down your insurance cover when you're not working. If your work dries up for a bit, switch your cover to lite mode to save money, and reactivate it again once you're back earning. Remember, unlike other insurers, Dinghy policies are pay-monthly at no extra cost, with no hidden admin fees. Dinghy customers can download our app for Android or iPhone. Dial your cover up  or down  and see your current payments to help you budget, all with a tap of your finger.
6. Chase unpaid invoices
One frustration for freelancers is that they often have money that they've earned that hasn't yet hit their bank accounts. You've put in the hard work, filed the invoice with the client, but not yet been paid. One way to bolster your cash reserves is to review any money you're owed and chase those unpaid invoices. Put aside a morning where you can email and ring to chase unpaid monies and get it safe in your accounts. If there's any clients that won't pay up, Freelancer Assist from Dinghy can help.
7. Protect your business
Freelancer insurance can protect your business from unexpected expenses. This could be something like a mistake in your work that ends up costing your client money. They then might try and reclaim costs and compensation from you to put right. Freelancers often don't have the financial reserves to cover these sorts of legal bills, which is why professional indemnity insurance for freelancers is a must-have. And make sure your gear is insured too – could you afford to replace your work laptop if it got stolen? Business equipment insurance from Dinghy can cover all those freelance essentials. We guarantee to replace your items or send you the cash within 24 hours of you filing the claim, so that you don't have any interruption of your business.
8. Make sensible swaps
There are some simple money-saving swaps that freelancers could consider:
Ditch the car to save fuel costs, and walk, cycle or use the bus.
Drop the expensive gym membership and jog, cycle or use home workout videos. Check your contract for details of the legal notice period first though!
Make lunch and coffee at home.
When your mobile contract comes to an end, instead of upgrading your handset, keep your current phone and switch to a sim-only deal.

Dinghy are here to support freelancers through this difficult time. Our counselling helpline is always available if things are getting on top of you. To benefit from this and other Freelancer Assist perks, get your freelance business covered today. Quotes take just thirty seconds on our website.