The insurance cover you should consider as a student freelancer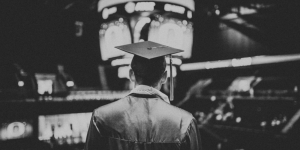 Student life has changed a lot over the years. With tuition fees higher than ever, and graduate career prospects uncertain, more and more students are making the smart move to start grafting while they study. Freelancing as a student can be a great way to earn some extra cash to support yourself – those student loans never seem to last very long – put into practice some of the skills you've learnt on your degree program and develop experience in your chosen field. It can also help you to learn a little bit about business management, show that you're a self-starter who can work independently and take initiative. All of these things are going to look great on that graduation CV!
But what freelancing students might not know is that running a business – even a small one with just a few clients – comes with personal and financial risks. What if a client is unhappy with the work you've produced? What if you accidentally injure someone in the course of your work? What if your laptop is hacked and clients' data stolen?
When you work for an employer, their business insurance covers any mistakes that you might make in the course of your work. Likewise, if any accidents happen – it won't be your responsibility to fix it. However, when you work freelance, it's another matter entirely. As a business owner, you are responsible for actions undertaken in the course of your work. When things go wrong, it's you that has to put it right. This can often involve large sums of money that a student loan just won't cover.
That's why smart freelancers get business insurance. For a small monthly fee, you can take out cover that protects you and your business against these risks. Dinghy business insurance has been developed especially for freelancers – designed to offer you flexibility, freedom and security. In this guide, we run through the key types of business insurance we think self-employed students need to run a first-class freelancing business.
Professional indemnity insurance – protecting your work and your reputation
From an errant typo that means a client has to reprint their sales brochure to an accusation of defamation, there are lots of things that can potentially go wrong when you're freelancing as a student. If a client incurs a loss as a result of your actions, your work, or your advice, they might try and bring a claim against you. Professional indemnity insurance is there to cover the costs of putting things right and can provide you with an expert legal team to fight your corner, so you can concentrate on your studies and keep working.
Public liability – protecting those around you and their belongings
No one sets out to injure people or destroy their property when they're undertaking freelance work – but it can and does happen. If a customer in a coffee shop trips over your laptop cord and breaks their arm, you might become liable for compensation to put things right. If you have public liability insurance from Dinghy, we will get our team on the case and provide cover between £1million – £5million depending on the needs of your business.
Gadget and equipment insurance – protecting your gear
Uni halls and houses are often a target for thieves, as they know you're likely to have up-to-date and expensive tech. But your gadgets aren't there for show – they're vital for you to do your job. Any equipment that is solely owned by your business can be covered by Dinghy's business equipment insurance: laptops, smartphones, cameras, instruments, or anything else that's essential for your work. With this worldwide cover, Dinghy will replace any lost or stolen items within 24 hours or get the cash straight to your bank account.
Cyber insurance – protecting your data and systems
The idea of your laptop being held hostage by ransomware is enough to make any student wake up in a cold sweat. As a freelancer, there's an extra level to the nightmare – it's not just your own data and privacy you need to worry about, it's that of your clients too. Dinghy's cyber insurance cover is an optional add-on that provides access to ReSecure, a specialist cyber incident reporting service, who can help you get your systems up and running again. Because your freelance business doesn't have its own IT department, our cyber insurance for freelancers also covers costs for ransom demands, restoration of data, business interruption and legal defence and fines if you're accused of committing any regulatory breaches.
Freelancer Assist – helping you through
As an added bonus, all Dinghy freelance insurance policies come with Freelancer Assist. Just like the student services at your uni that support you through your studies, Freelancer Assist is a helpful sidekick through your freelancing journey. As well as access to legal, tax and counselling helplines, we can help you chase unpaid invoices from clients who are reluctant to pay.
Getting signed up to Dinghy insurance couldn't be easier. Simply fill in the quick form on our website with a little bit of info about you and your freelancing work, and we'll email a no-obligation quote straight to your inbox. Our cover is super-flexible – in fact we bill by the minute – so you can dial down your policy when you're not working to save cash (for example, if you're busy with exams or taking a trip), then pay monthly for the level of cover you have used with no hidden fees or charges. If you install our handy Apple or Android app, you can manage your cover on-the-go, dialling it up and down to match your ever-changing workloads.