I'm a freelancer working in IT, do I need insurance?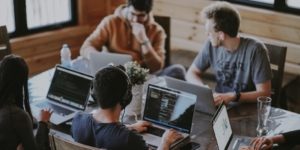 IT is one of the most popular sectors for freelancers to work in, and it's easy to see why. Freelancing in IT allows you to be your own boss, set your own hours, and select the projects that are most interesting to you. You can also charge a premium for those in-demand specialist skills. Whether you're a programmer, developer, technician or project manager, freelancing is a great way to build a career as an IT professional. But freelancing in IT is definitely different to working as an employee. With no set hours and no micromanaging, you'll need to be self-disciplined and organised. You'll also be working without the same protections that you would have as an employee, so freelance IT gurus would be wise to consider taking out business insurance.
Do I have to have business insurance?
In short, when you're working freelance, anything that goes wrong is on you, and that might include big pay-outs to put things right, as well as arranging legal defence and fees. While most freelancers try to have a bit of a surplus for emergencies or quiet periods, that is unlikely to be enough to cover the costs if one of your clients tries to sue you or a member of the public is harmed in the course of your work. In this guide, we'll take a look at what different types of cover are available to protect you and your freelance IT business.
Professional indemnity insurance for IT freelancers
Professional indemnity is the insurance that will protect your work and reputation as an IT freelancer. This covers things like mistakes in your work, negligence, copyright breaches and "bad advice" – when you make recommendations to your clients that turn out to be the wrong call. If your client thinks that an error you've made in your work has cost them money, they can try to claim against you for recovery of the costs and compensation. Even if you believe you've done nothing wrong, you would still be left with the cost and hassle of finding legal representation to defend yourself against the claims. If you have professional indemnity insurance from Dinghy, we can provide an expert legal team to fight your corner, and cover compensation costs awarded to the other side, up to the limit of your policy.
Example claim: You advise a customer to switch their web hosting and their new provider turns out to be much slower, costing them revenue as people navigate away from the site to go elsewhere and abandon their online baskets. They bring a claim against you for the loss of business and revenue that your bad advice has caused.
Public liability insurance for freelancers in IT
For IT professionals who work out and about, at clients' premises, in co-working spaces or even if you're partial to the odd cappuccino-fuelled coding session in your local cafe, public liability insurance is an essential. Public liability cover is there to protect the people around you and their property. If someone is injured or equipment damaged in the course of your work, you might find yourself liable for compensation claims. If you've got public liability insurance to cover your freelance work, then your policy can step in to provide a legal defence and money to put things right with the people you've harmed.
Example claim: You're doing the rounds of the offices of a big client, making sure all their computers are running the latest operating system and updates, and you leave your bag in the gangway of the office. A member of the client's staff trips over your gear, breaks their arm and requires time off work to recover. Public liability insurance would step in here to cover any compensation owed to the injured party. If you didn't hold it, you'd potentially be looking at big legal bills and a demand for compensation that you are unable to pay.
Gadget and equipment insurance
To do your work effectively, you need the tools of your trade such as laptops, tablets and a smartphone. These items can be easily lost, stolen or damaged, and are expensive to replace. Getting insurance cover for your business equipment is a smart move, and Dinghy's business equipment insurance protects your gear worldwide. We've got a 24/7 claims hotline and can courier you a replacement device within 24 hours, or put the cash in your bank account if we can't get to you. Because we know how important it is that you can keep working, any piece of equipment that's owned by your business can be covered.
Example claim: Your work laptop gets stolen from your home office. Thieves smash a window to get in and take it, but it's owned by your business so your standard home insurance policy won't cover it. If you don't have business equipment insurance, the cost of getting a new one will have to come out of your earnings or savings. With Dinghy, we'll make sure you can get back to work as soon as possible.
Cyber insurance
All IT professionals will recognise the risks of this growing area of criminal activity, and many will have seen first-hand the sorts of situations that cyber liability insurance is there to protect against. No matter how careful or clued up you are, ever more sophisticated scams are at work which can mean loss of access to your equipment or systems, and corruption or theft of data (yours and your clients). Cyber liability insurance from Dinghy is there to help you get back up and running again quickly and securely, with access to dedicated 24-hour help and cyber incident reporting service ReSecure. We'll also protect your freelance IT business against the financial and operational impacts of an attack, including ransomware demands, restoration of data, business interruption due to cyber attack and regulatory defence and penalties.
Example claim: You're pretty good at spotting the obvious scams and keeping your security tight by installing the latest updates. Unfortunately, one of your passwords gets leaked online and your laptop is held by ransomware, including the latest jobs you were working on. With cyber insurance, you'll be supported through the process of getting your systems back online safely.
What's more, all Dinghy Professional Indemnity policies come with Freelancer Assist, a package of support services for freelancers going it alone. Get help chasing your overdue invoices and consult the tax helpline to check if IR35 applies to you. Dinghy can support IT freelancers with all of the above insurance cover, in a flexible package tailored to suit freelance life. You can use our app so that you're in control of your cover, 24/7. Policies are billed monthly with no hidden fees or charges, and, when you're not working, you can switch your cover onto lite mode, saving you money between jobs or when you're taking some time off. To get your own quote for IT insurance for freelancers, take a quick click over to the Dinghy website.