A graduate's guide to becoming a freelancer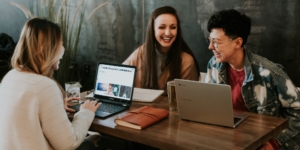 Hey, congratulations, scholar! Donning that cap and gown and finally getting your mitts on that degree certificate is a huge rite-of-passage. But amidst the champagne, proud parents and tearful goodbyes, there's also that niggling feeling: oh my goodness, what do I do next?
If your time at uni is nearly over, you'll be starting to consider your next career move. Will it be a graduate programme, an internship, an entry-level job, or volunteering for some experience? Do you want a job that uses what you've learnt in your degree, or to step into something new entirely? Perhaps you'd prefer something a little more flexible? If you're a graduate looking to get into freelancing, you're in the right place. This guide will tell you everything you need to know to get set up and ready to fly solo!
Why consider freelancing?
If graduate schemes seem too rigid and internships too poorly paid, freelancing might be for you. When you're a freelancer, you can be your own boss and work the hours that suit you. You can invest in training for yourself and get to keep all the money you earn through your hard work (after tax). Once you've gained enough experience, freelancers can typically earn a higher rate of pay than you would in traditional employment. We have to be honest though – it's not for everyone. You have to find your own work and if you have a quiet month with no projects on the go, you aren't getting paid. Particularly when you're first starting out and building up a client base, this can be a risk. However, as you get more established as a freelancer, recommendations, referrals and regular clients can help you stabilise your income.
Decide on your area of work
From writing to photography, social media to IT, there are many areas in which to get freelancing. You might already have an idea of what you want to do, and have a portfolio built up from your degree or part-time work. Or you could start out as more of a generalist, and try some different things until you hone down your niche. Whatever you want to do, it's a good idea to gather together some examples of your work – whether that's articles written for your university paper, animations produced for your final degree projects, or a website you built for your dad's plumbing business – to show off your skills to potential clients.
Decide on your services and rates
Once you know what skills you've got to offer, it's time to work out a pricing strategy and exactly what the services are that you've got to sell to clients. Setting your rates can be tricky, especially when you're just starting out. What you charge should reflect your experience and qualifications. Too high and clients might not want to take the risk on someone without a proven track record. Too low and clients might not take you seriously or may expect you to continue working for rates that are actually not enough for you to live on. You'll also need to do some research into your chosen industry to see what average rates are. We've put together a handy guide to setting your rates as a freelancer if you want some tips on pricing strategy.
Set up a website and LinkedIn or social media channels
Once you know what you've got to offer – it's time to shout about it! It's a good idea to set yourself up with a website. As a minimum, this should offer a bit of info about you and your experience, some links to samples of your work, and a way for potential clients to get in contact with you. Not sure where to start? We've put together a list of our top 10 website builders for freelancers. Make sure you set up a business email as well. No one wants their next project managed by "sunshinegirlY2K" or "lager_lad_01". LinkedIn can be a really great source of potential clients and recommendations from others, so it's worth setting up a profile there if you haven't already. You might also decide to set up other social media accounts depending on the type of services you're offering – illustrators and photographers will probably want a visual platform like Instagram, whereas wannabe journalists and writers might want to join the conversation on Twitter. For more tips, check out the Dinghy guide to building your social media following as a freelancer.
Get some training
To make sure you're set up and ready to go as a freelancer, you might want to do a quick knowledge audit. Try and map out what skills, knowledge and experience you already have in your chosen area, and identify any gaps. Where there are topics that you feel you need to know more about, you could invest in some training to support you in those areas. Face-to-face training courses are fun to attend and you'll learn a lot, but they can also be pricey. Online training is now widely available on a huge range of topics, and are much more reasonably priced for those just starting out. You can even train yourself from YouTube videos or TikTok, if you know the right accounts to follow!
Join a freelancing community
Freelancing is a lot of fun, but it can also be lonely, especially after the camaraderie of a degree course. If you're feeling out of the loop, you could try joining a freelancing community. These can be great sources of support and advice on everything from sending invoices to finding clients. There are lots of generic freelancing communities out there, as well as ones dedicated to specific fields.
Get freelance business insurance
When you work for an employer, they have business insurance which protects you if you make a mistake as part of your job, or if someone gets hurt. Unfortunately, when you're a freelancer, you're unprotected and can be held liable for negligence that costs your client money or accidents that cause someone to be injured. This could cost lots of money to put right – money that most freelancers simply don't have. The best way to keep yourself safe from these risks as a freelancer is to make sure you've got business insurance. There a two main types of business insurance that freelancers should consider:
Professional indemnity insurance – this protects you and your clients in the event that something's wrong with your work. This can include things like copyright breaches, liable, negligence and giving bad advice.
Public liability insurance – this protects the people around you and their property if anyone gets injured or damaged as a result of your actions at work.
Dinghy also offers some extra insurances for further peace of mind for freelancers: business equipment insurance to protect your essential gadgets and cyber insurance to support you in the event that you become a victim of cyber crime like a ransomware attack or phishing scam. Find out more about the different types of insurance that we recommend to freelancers. What's more, all Dinghy policies come bundled with Freelancer Assist, a unique service that will give you access to tax, legal and counselling support and help you chase unpaid invoices. Because Dinghy insurance is designed specifically with freelancers in mind, we offer flexible, pay-monthly plans which you can pause at any time when you're not working – ideal for freelancers just starting out. You can find out more or get a quote on our website. Good luck out there graduates…the adventure is about to begin.