10 blogs you should be reading as a freelance graphic designer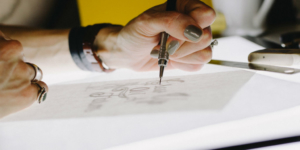 Keeping up with the latest trends, finding out about new techniques and cheats, and connecting with potential clients and other freelancers – there are lots of reasons to make regular reading of graphic design blogs a part of your weekly routine. Blogs are especially good for days when you're feeling flat, lacking inspiration or motivation, or for filling in those gaps when you're waiting for a Zoom meeting to start! Here's our Dinghy rundown of the top 10 blogs we think freelance graphic designers should be reading:
1. Creative Bloq
Regularly updated and a go-to global hub for all things creative and design-based, Creative Bloq contains advice, inspiration, industry news and how-tos. If you need to purchase any new equipment for your graphic design set-up, Creative Bloq is a great place to go for reviews and top 10s that will help you narrow down your choices and get road-tested opinions on how to get the most bang for your buck (do remember to protect it with business equipment insurance for freelancers from Dinghy).
2. Eye on Design
Whenever we're feeling stuck in a creative rut, Aiga Eye On Design is the blog we head to first. We love how it merges art and design history, interviews with experts and thoughtful comment to provide intelligent and engaging articles on all aspects of design from fashion to typography. If you find some other blogs a bit too superficial and light, Eye On Design is brilliant for delving in-depth and expanding your knowledge, while still being written in an accessible and entertaining way. Always a worthwhile way to spend a tea break…or a whole afternoon.
3. Adobe
It's the creative toolkit that every graphic designer needs at their disposal – but did you know that Adobe also runs a blog that's jam-packed full of tricks, tips and updates for anyone who's a user of their products? Discover lesser-known tools that will help up your design game or shortcuts to help you save precious time on projects. Check out the free assets that are regularly shared, like pre-sets for Lightroom, effects for Photoshop or practice files and elements for Illustrator.
4. Sitepoint
Particularly valuable for designers working on websites, apps and UX, Sitepoint's Design blog contains a wealth of knowledge, how-to guides and introductions to various design topics. We love how hands-on it is and how their prompts make us think of aspects of design we might not otherwise have considered. Listicles are our favourite squeeze-in-a-read format for blog articles, and Sitepoint are the masters of this format, narrowing down the field on everything from design handoff tools to machine learning!
5. The Inspiration Grid
The slick and highly-curated Inspiration Grid blog highlights hot talents and trends in photography, art, typography, illustration and product design. It's sleek interface oozes cool and it's the perfect antidote to a blank page. Sit down with a sketchbook and this site and let your creative juices flow with the diversity of inspiration on offer. If you're working on a specific idea, and can't seem to get the ball rolling, it even has an inspiration search function!
6. Creative Boom
Creative Boom is a great way to keep an eye on what's going on in the industry more widely, and for creative industry career tips with a huge side-helping of arty inspiration. The blog is sorted into categories for ease of navigation, so if you're looking for "resources" or "tips", you can head straight to those tabs. If audio's more your thing, there's also a Creative Boom podcast, with a new episode each week. Stick one on for the commute or if your productivity starts to dip mid-afternoon.
7. Smashing Magazine
Web designers and developers are at the forefront here, so if you're designing for digital it is worth having Smashing in your bookmarks. Get involved with the monthly wallpaper competition for some great exposure or delve into the latest tech news. Articles cover everything from the relationship-building and emotional side of design work to detailed technical walkthroughs.
8. Design Clever
A slick looking and highly-visual blog, Design Clever showcases the work of designers from across the world. It's a great place to pop by for a quick hit of inspiration. From the photo-based home page, you can click into any design and find out a bit more about the backstory, brief and design process. They also take submissions of any type of design work, so if there's a project you're really proud of, send it to curators Bethany and Jonathan and you might just get featured!
9. The Dieline
With a specific focus on packaging design, the Dieline is a bold, ballsy and beautiful blog. From examples of cutting-edge packaging design to showcasing student work, there's lots to enjoy here. It's updated almost every single day, so be sure to check in regularly. There's also a community page and jobs board (mostly US-focused) that are definitely worth coming back for.
10. The Dinghy Knowledgebase
We think the blogs above have well and truly got the creative and technical aspects covered – but what about the business of freelancing itself? Our Freelancer Knowledgebase here at Dinghy has the lowdown on everything you need to know about self-employment and running a freelance biz – from how to get more referrals to how to prevent late payments. We're always here advising on the importance of getting proper business insurance for your freelance work and helping you navigate the minefield to understand what's important when it comes to getting covered.
Add all these sites to your bookmarks and you'll be ready to squeeze them into your working week. Another activity to fill up a short break between meetings is to check your business insurance is up-to-date. Dinghy can help freelancers get set up with flexible, low-cost business insurance that can be paid monthly with no extra fees – and dialled down when you're not at work. To find out more and get a quote direct to your inbox, head over to the Dinghy website.